How to download Dailymotion videos using the bookmarklet in Chrome browser
October 9th, 2014 /
89 Comments
Step by step for desktop Chrome browser:

1. Add the bookmarklet (You can get it from here) to your Bookmarks Bar.
If your Bookmarks Bar doesn't show on Chrome browser, make Bookmarks Bar Visible in the browser.
Use
Chrome menu

on the browser toolbar.
For Mac OS X: Go to the menu: Select "View" > and then select "Always Show Bookmarks Bar".
You can also use the keyboard shortcuts
Ctrl+Shift+B
(for Windows and Chrome OS) or
Cmd+Shift+B
(for Mac OS X) to toggle the bookmarks bar on. See –
Chrome Help
2. Open the "special URL" that will be shown inside (Example – dailymotion.com/embed/video/xcv6dv ) if you press the "Download" button.
3.Then press the bookmarklet (On your Bookmarks Bar) to continue.
It is important to wait a few seconds.
Done!
All 3 steps in the following screenshots (Updated: 02/23/22):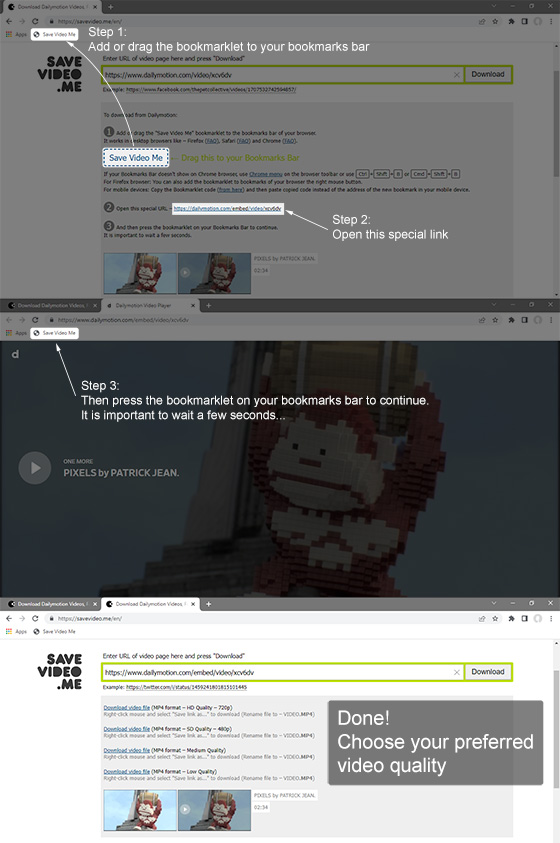 SAVEVIDEO.ME – Download videos from Dailymotion, Facebook Video, Vimeo, Twitter Video, Instagram Video, Threads, TikTok (Without watermark), Reddit Video, Snapchat (Stories / Spotlight), Rumble.com and from other popular video sites, social media and video hosting platforms easily!
Tags:
bookmarklet
,
download from Dailymotion
---